sidefeed releases "TwitCasting Live", a Twitter client for iPhone with ZERO latency live streaming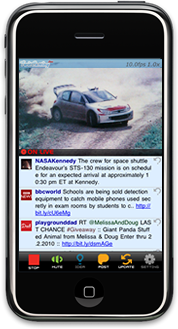 sidefeed releases "TwitCasting Live",
a Twitter client for iPhone with ZERO latency live streaming;
to boost up real-time mobile communication
TOKYO JAPAN, Feb 3 – sidefeed, Inc. web-based technology company in Japan, is pleased to announce that they have released "TwitCasting Live".
TwitCasting Live is a web service with iPhone application, which enables users to broadcast live images and sound from their iPhone with ZERO latency technology. The iPhone application is designed to best work with twitter, which lets those who already have twitter account to live cast from their own iPhone instantly.
TwitCasting Live for iPhone works with 3G network as well as WiFi network. It will automatically adjust the live quality to get the best performance even under the unstable 3G network. So if you got a network, you are always ready to broadcast your live. With TwitCasting Live, you can send messages/replies on twitter even while you are live streaming.
TwitCasting Live is hosted by "http://twitcasting.tv/" website, where anyone can visit and enjoy the live broadcastings and/or recorded live videos. As twitcasting.tv web site supports HTML5 features, you can watch live and video even on iPhone or iPod Touch without installing TwitCasting Live application.
TwitCasting Live for iPhone is available on iTunes AppStore for FREE. Currently all services are free to use.
Unlike USTREAM or other live broadcasting service, TwitCasting Live is more focused on mobile and real time communication with "ZERO latency technology" and "Twittering while broadcasting" feature. We are planning to add more unique features on TwitCasting Live service.
TwitCasting web site
http://twitcasting.tv/
Press Release
http://twitcasting.tv/css/TwitCasting_PressRelease_20100203_en_media.pdff

« Released iPhone App "Remote Live Camera" | | Fresh Reader Update - Ver. 2.1.10021800 [2/18/2010] »